CIRCLE researcher honored in series of 20 Pioneers Under 40 in Environmental Public Health
Whitehead honored as Pioneer Under 40
CIRCLE Career Development Investigator, Dr. Todd Whitehead, was recognized by the Collaborative on Health and the Environment as one of 20 Pioneers Under 40 in Environmental Public Health.  The 20 pioneers will be given an opportunity to share their research during a series of web-cast talks this fall.  Yesterday, Dr. Whitehead was featured in the initial webinar of the series titled, "Chemicals in Consumer Products: Exposure Science at the Forefront of Regulation,"  alongside Dr. Simona Andreea Bălan, a Senior Environmental Scientist at California's Department of Toxic Substances Control.
How does CIRCLE research help regulators?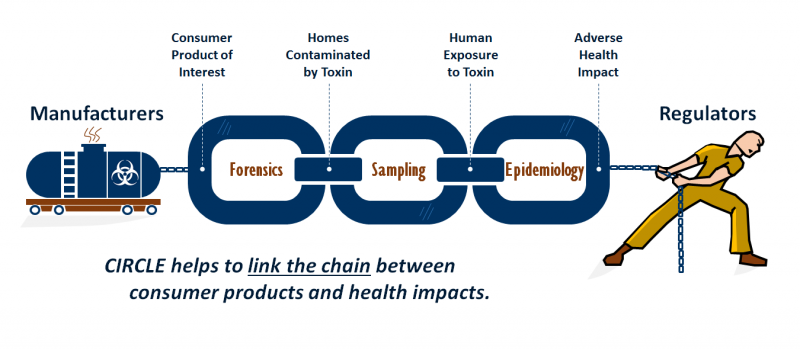 Whitehead explained how CIRCLE research enables regulators to better understand the pathways of exposure to chemicals in consumer products, empowering them to affect changes towards safer chemical use in manufacturing. CIRCLE investigators have worked to reveal the "links in the chain" connecting consumer products, environmental contamination, human exposure, and adverse health effects for children. Using a variety of exposure science tools – including environmental forensic microscopy, vacuum-cleaner dust sampling, and biological monitoring – CIRCLE is helping to fill data gaps for regulators. This webinar highlighted some of the work CIRCLE is doing to assess human exposure to legacy and emerging flame retardants used in consumer products.
You can watch the full webinar here:
Chemicals in Consumer Products: Exposure Science at the Forefront of Regulation